Let's cap off this beginner SEO tutorial with a handful of emerging trends in the digital marketing world.
To be clear: I only recommend working on these things once you have a handle on SEO fundamentals. But if you're ready to get more advanced, this section is for you.
Schema Markup
A search engine ranking factors study found zero correlation between using Schema markup and first page rankings.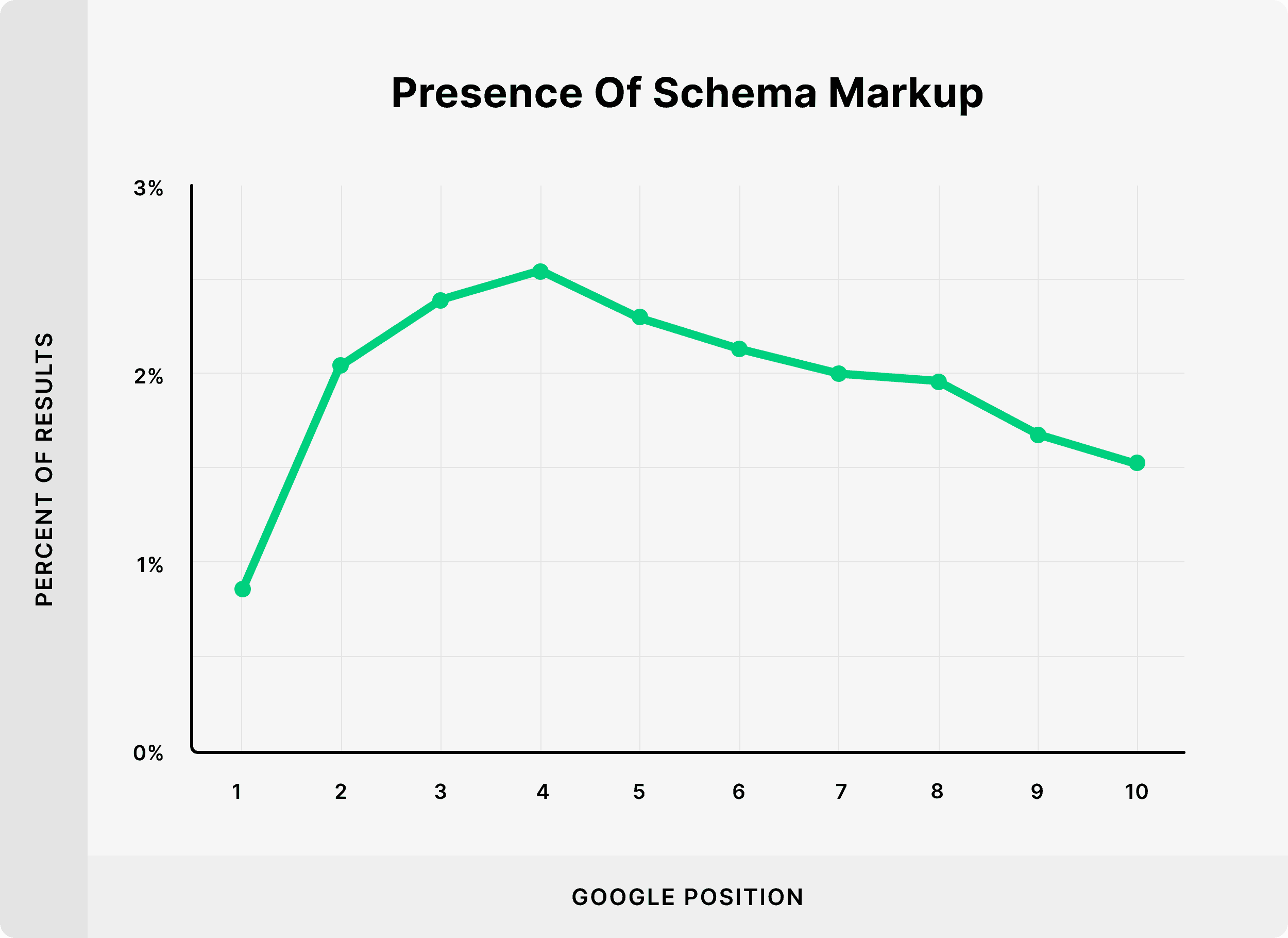 Some people interpreted that result as: "Schema doesn't work!".
And sure, if you think that adding Schema markup to your page is going to improve your organic rankings, you're going to be disappointed.
One thing to keep in mind is that using Schema the right way can increase your organic click-through rate. So even though you might not get a rankings boost, Schema CAN help you generate more organic traffic.
For example, look at these search results: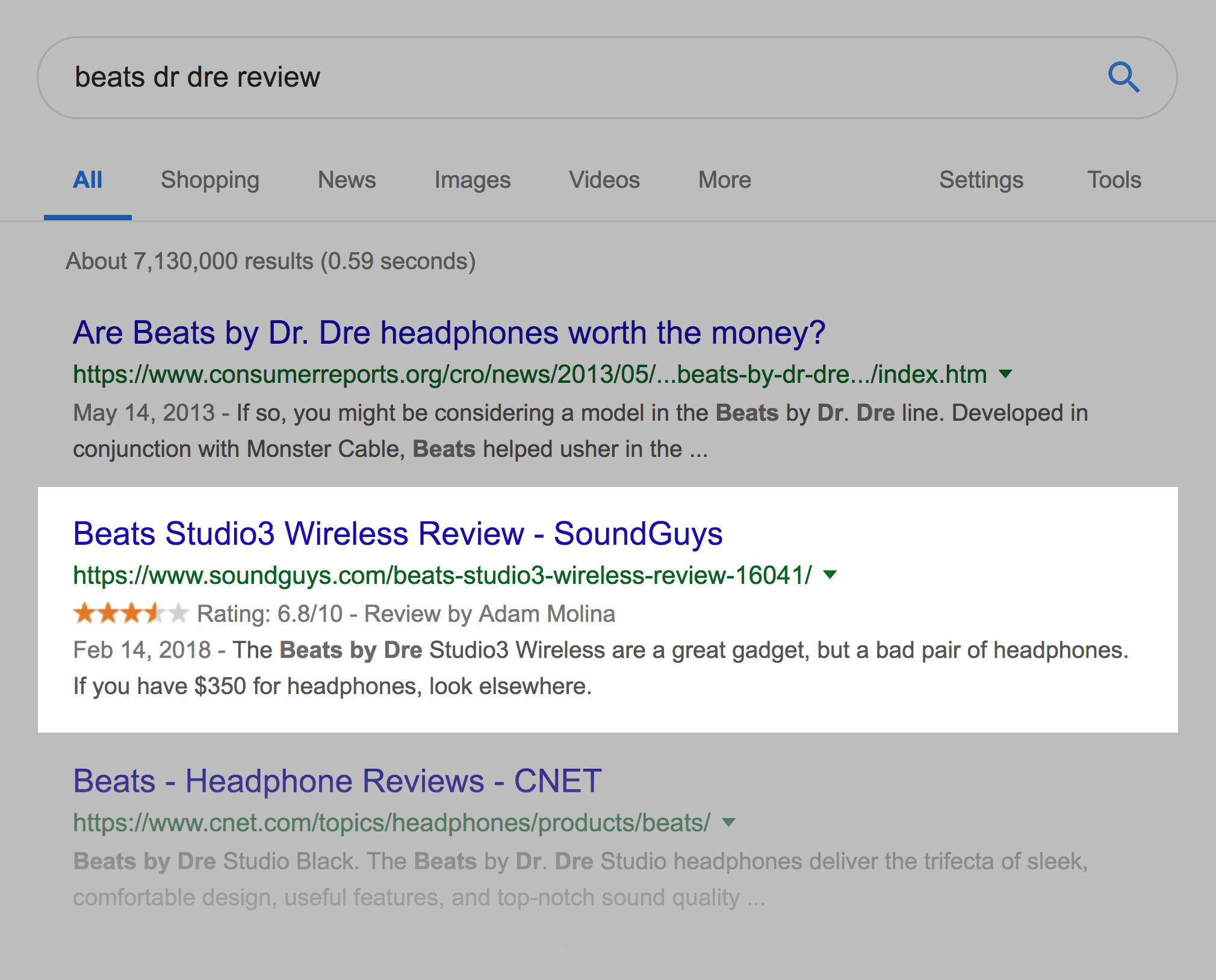 Which one stands out? Obviously, the one with review stars!
And review stars (and other types of "Rich Results") are only possible if you use Structured Data in your site's HTML. So if you want your site to stand out in the SERPs, I recommend giving Schema a shot.
E-A-T
E-A-T (short for "Expertise, Authority and Trustworthiness") is something that Google has put more and more emphasis on over the last years.
Why?
It's simple: Google wants to be 100% confident that the content in the search results can be trusted.
There's a lot of controversy in the SEO world right now about E-A-T.
But the bottom line is that, for Google to give your site a high E-A-T rating, it needs to be considered a trusted authority in your industry.
For example, Wikipedia probably has the highest E-A-T rating of any website on the planet. The content is written and edited by thousands of people (many of which are experts in their field).
When it comes to improving E-A-T, there really are no shortcuts. If your site puts out generic content written by random freelance writers, it's going to be hard to establish E-A-T.
But if you put out high-quality content written by respected experts, your E-A-T is going to be in good shape…
Plus, like most things in SEO, even E-A-T is influenced by links. In fact, Google recently confirmed that PageRank is a big part of establishing E-A-T.

Voice Search SEO
It's no secret that the number of people searching with their voice has grown by leaps and bounds over the last few years.
Google has even reported that nearly half of all adults use voice search everyday.

And it's growing fast.
When I talk about voice search a lot of people ask me: "What's the point of optimizing for voice search? Even if I 'rank' #1 in Google Home, no one's actually visiting my website."
And it's a good question.
My reply?
Voice searches aren't just for smart speakers, like Amazon Alexa.
In fact, according to Search Engine Land, 1 in 5 searches done on mobile phones are voice searches.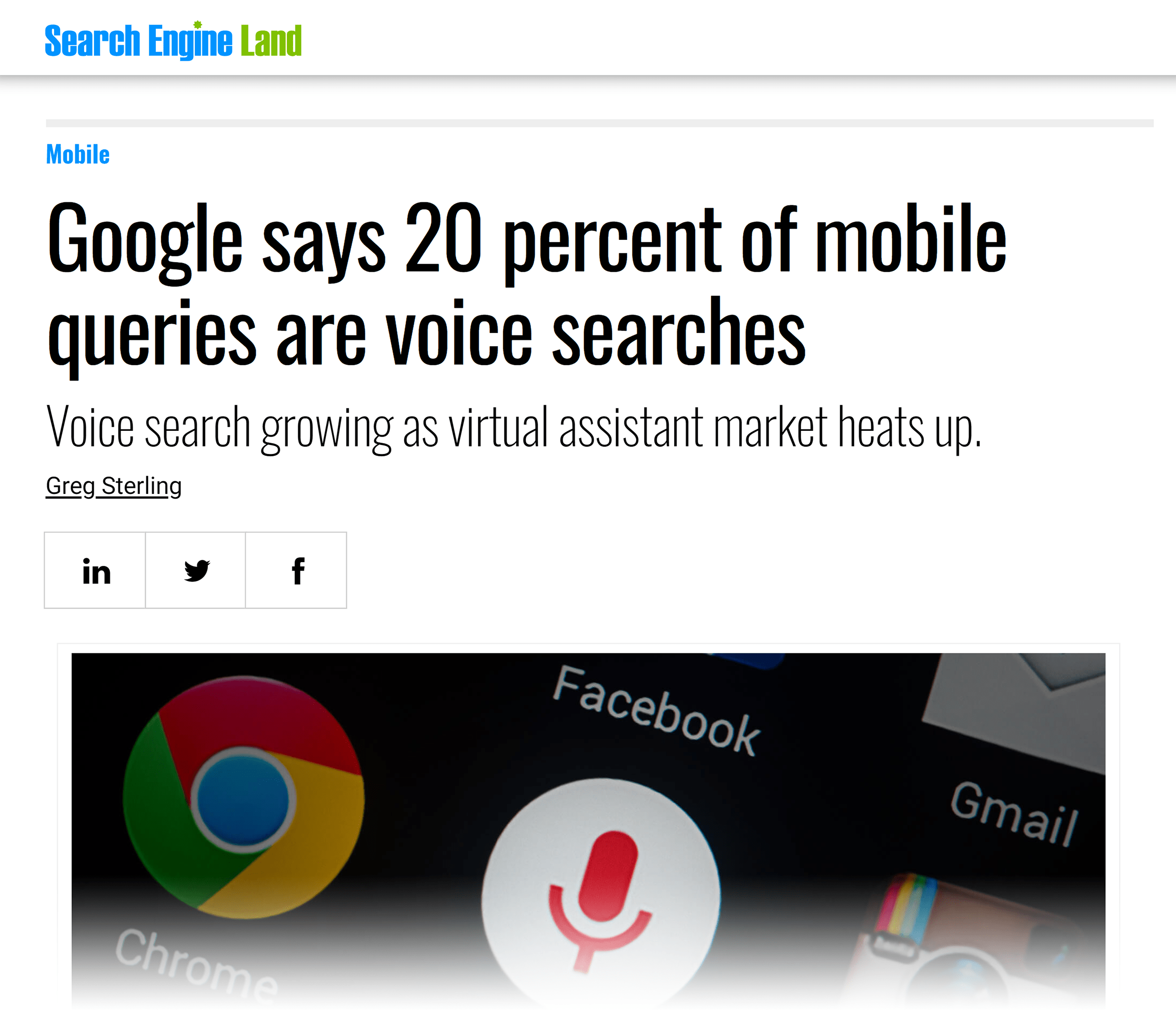 In other words: more and more people are bypassing their keyboards in favor of their voice. And it's impacting mobile and even desktop searches.
Bottom line? Voice search is one of the most important trends in the world of SEO and digital marketing. Especially when it comes to local SEO.
As more people start to search with their voice, publishers will have to figure out ways to create and optimize content specifically for voice searches.
If you want to start optimizing for voice search, I recommend reading "Voice Search: The Definitive Guide".
Core Web Vitals
In the summer of 2021, Google rolled out what they called a "Page Experience Update".
This update took into account what Google calls Core Web Vitals: a set of factors considered important for user experience.
While it's unclear how big of an impact Core Web Vitals have on rankings, it's definitely worth optimizing for.
You can see your site's Core Web Vitals report in your Search Console account: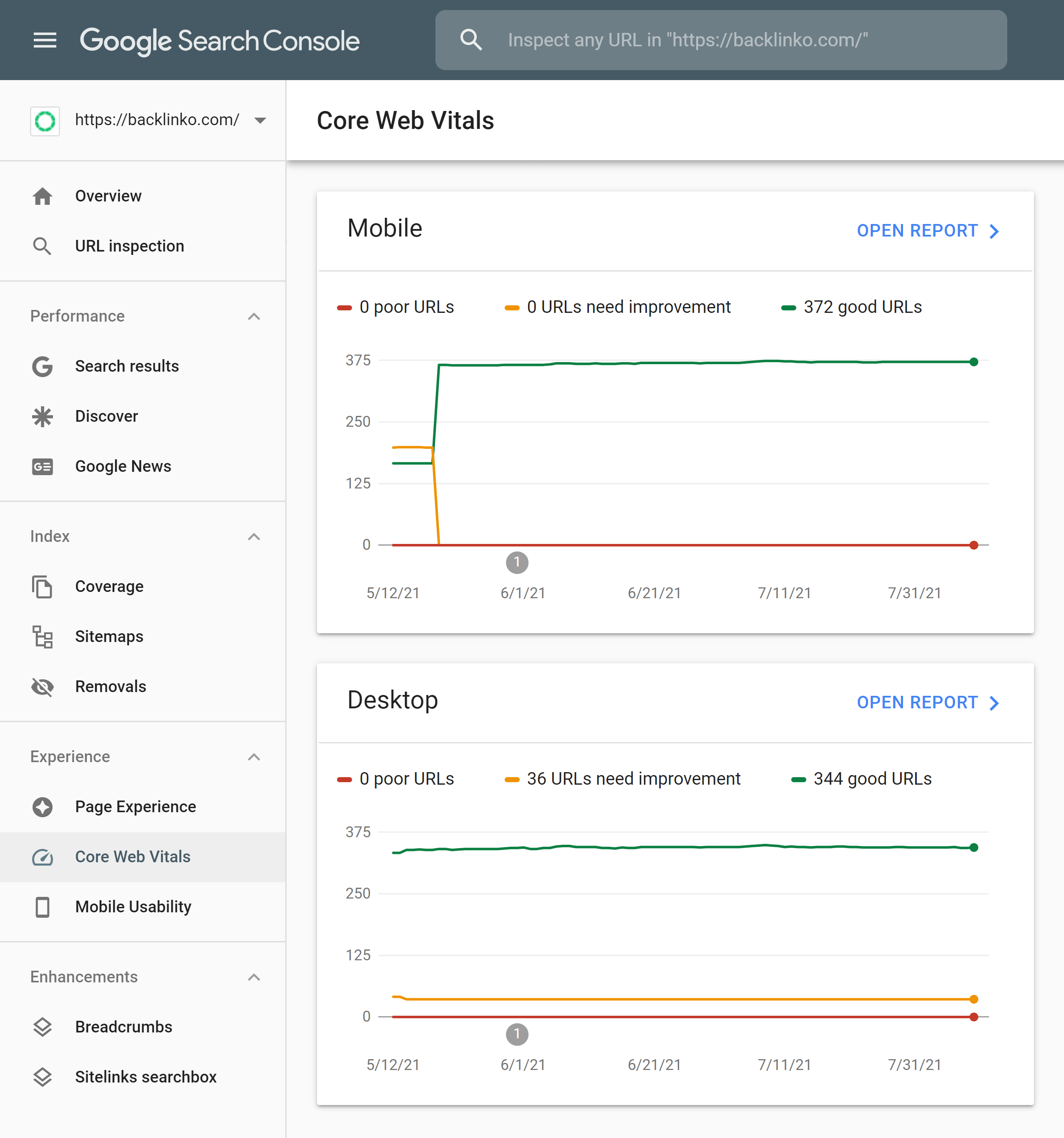 Optimize YouTube Videos
YouTube is the second most popular website in the world.
Unlike other social media sites (like Twitter), YouTube is also a massively popular search engine. This means that SEO is super important for ranking on YouTube.
Plus, according to Sistrix, YouTube videos are now becoming a bigger part of Google's search results too.
Sure, YouTube videos have been in Google's search results for years. But over the last 18 months or so they've taken up more and more SERP real estate… especially above the fold: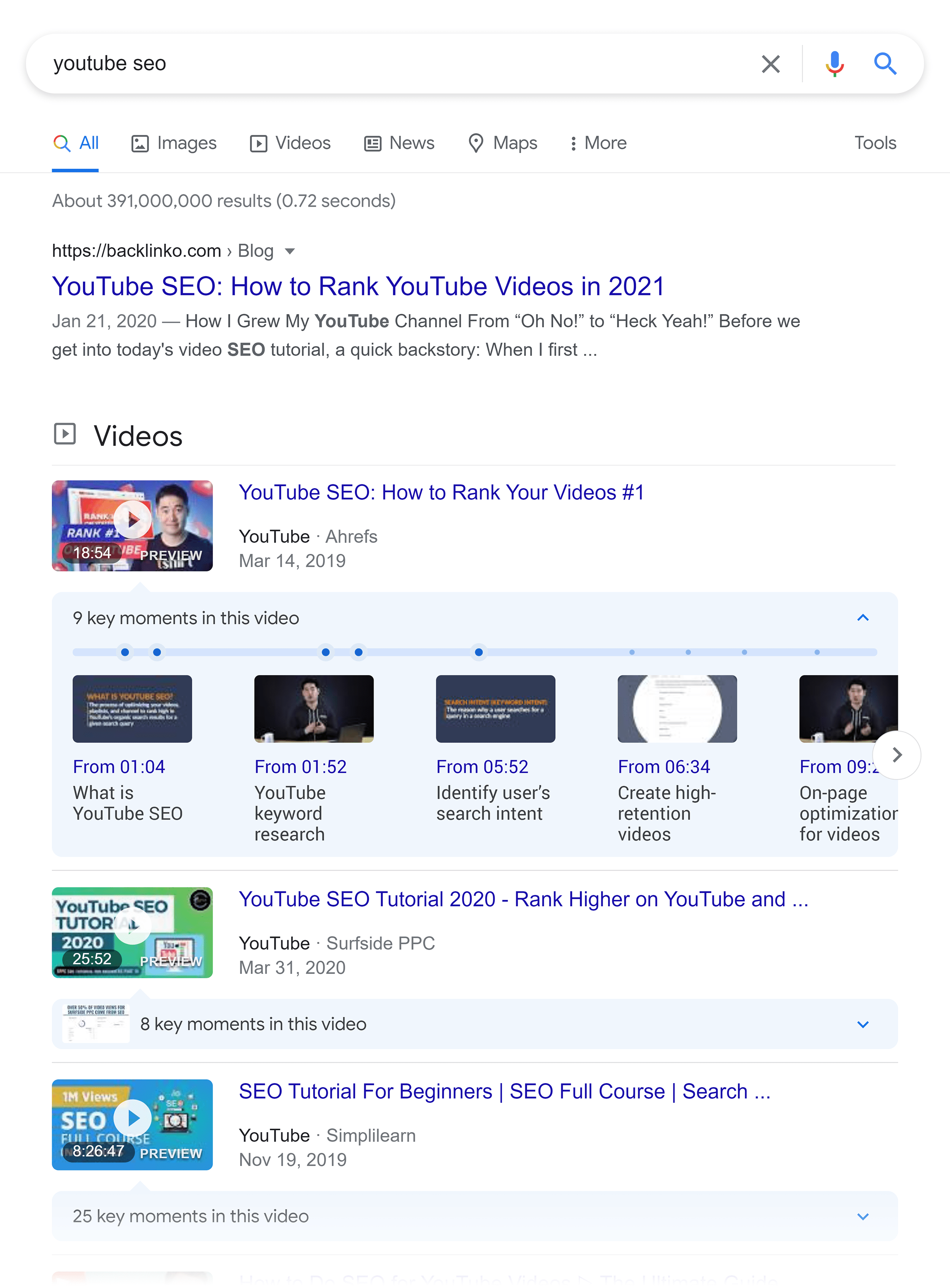 This means having a presence on YouTube is an absolute must for SEO in 2021.