The goal of link building is to get other websites to mention (and link to) your website. This is also known as "Off-Page SEO".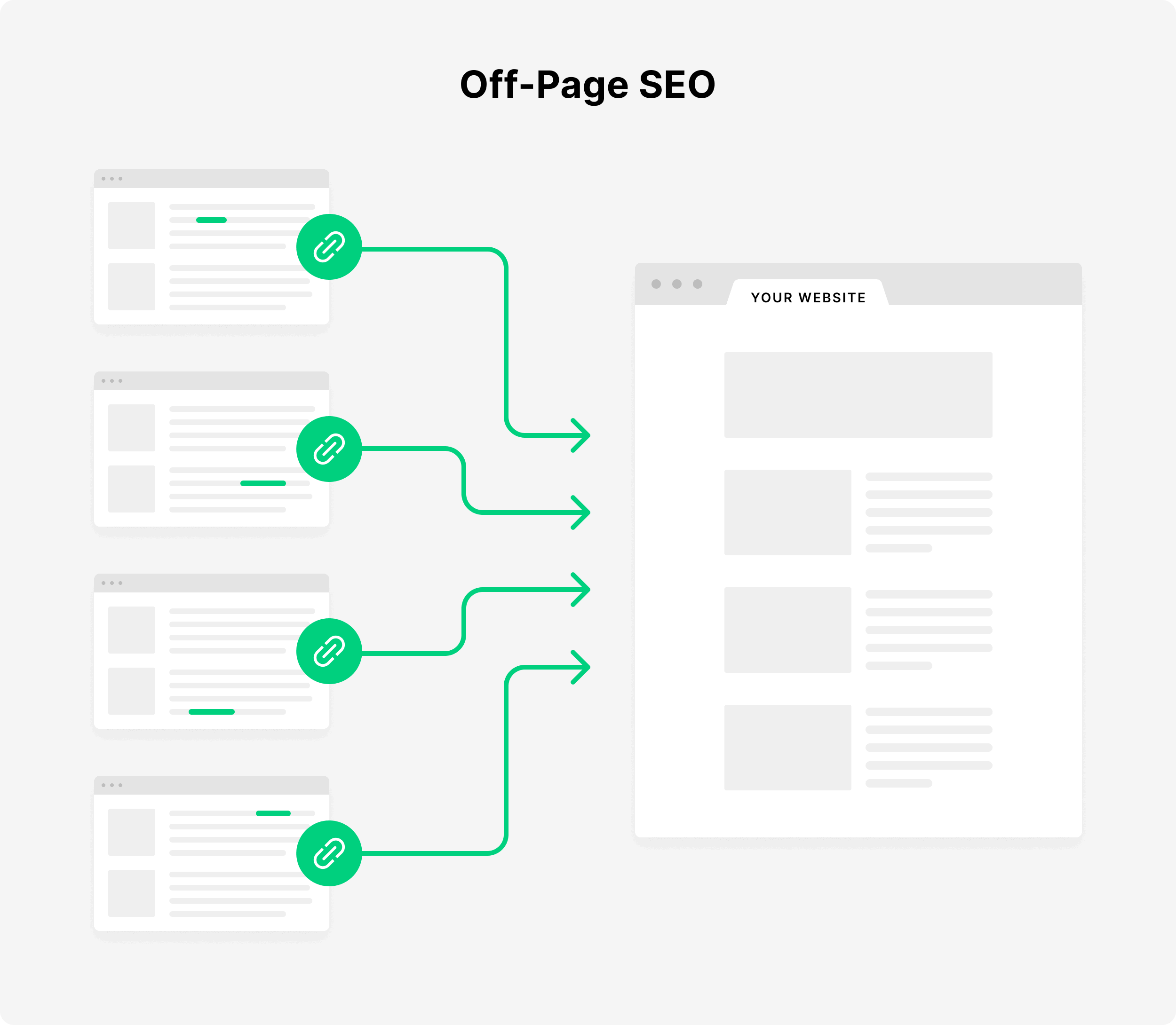 Even though backlinks have been the backbone of Google's algorithm since day one, they're still SUPER important.
In fact, Stone Temple Consulting (now Perficient) has been analyzing the same set of search results since 2016.
And they discovered that links are still strongly correlated with first page Google rankings.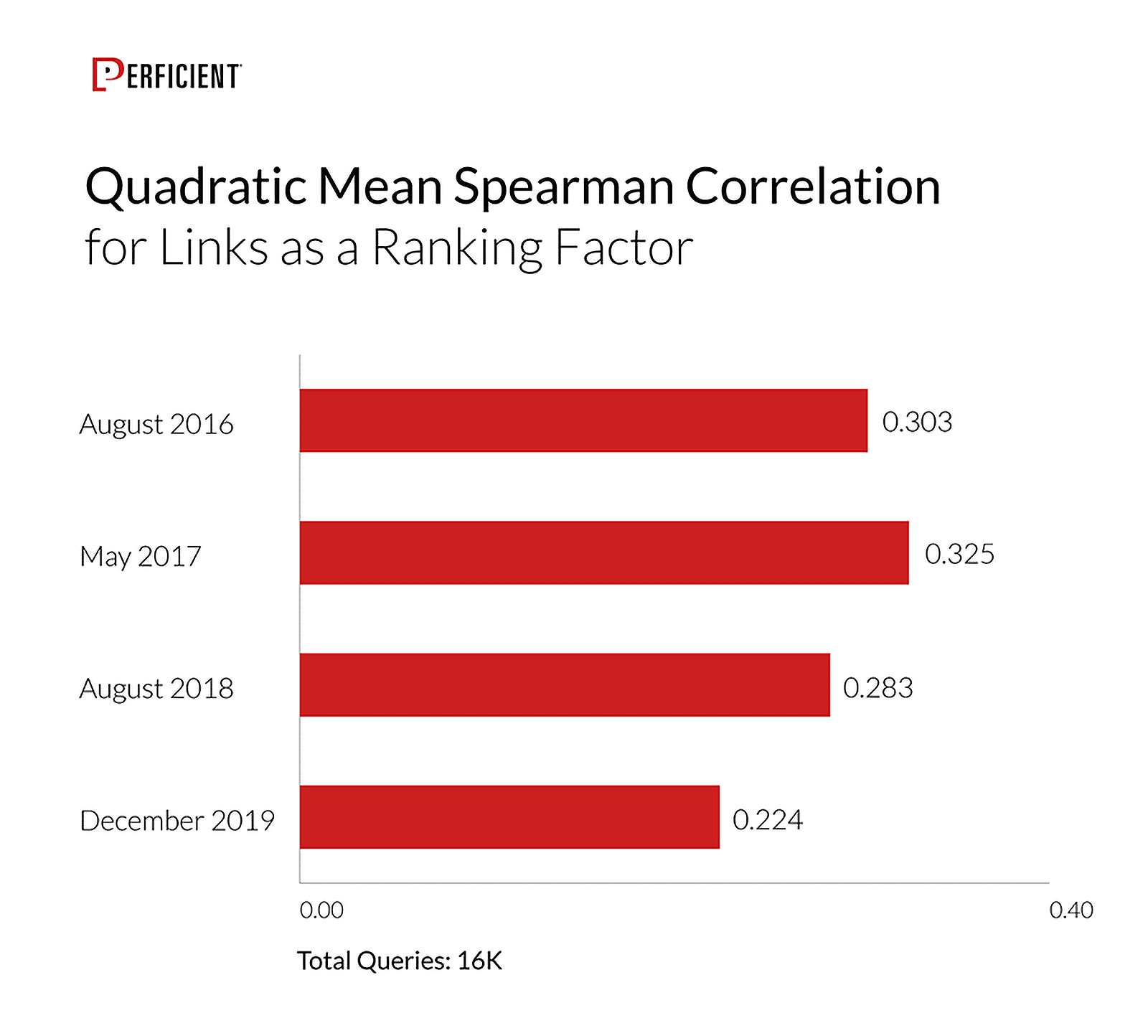 Bottom line? Links are a massively important part of search engine optimization. And that's not likely to change anytime soon.
With that, here's a quick primer on all things link building.
Link Authority
Not all links are created equal.
Specifically, links from trusted, authority sites will pass more PageRank to your site than a link from a small, low-authority website.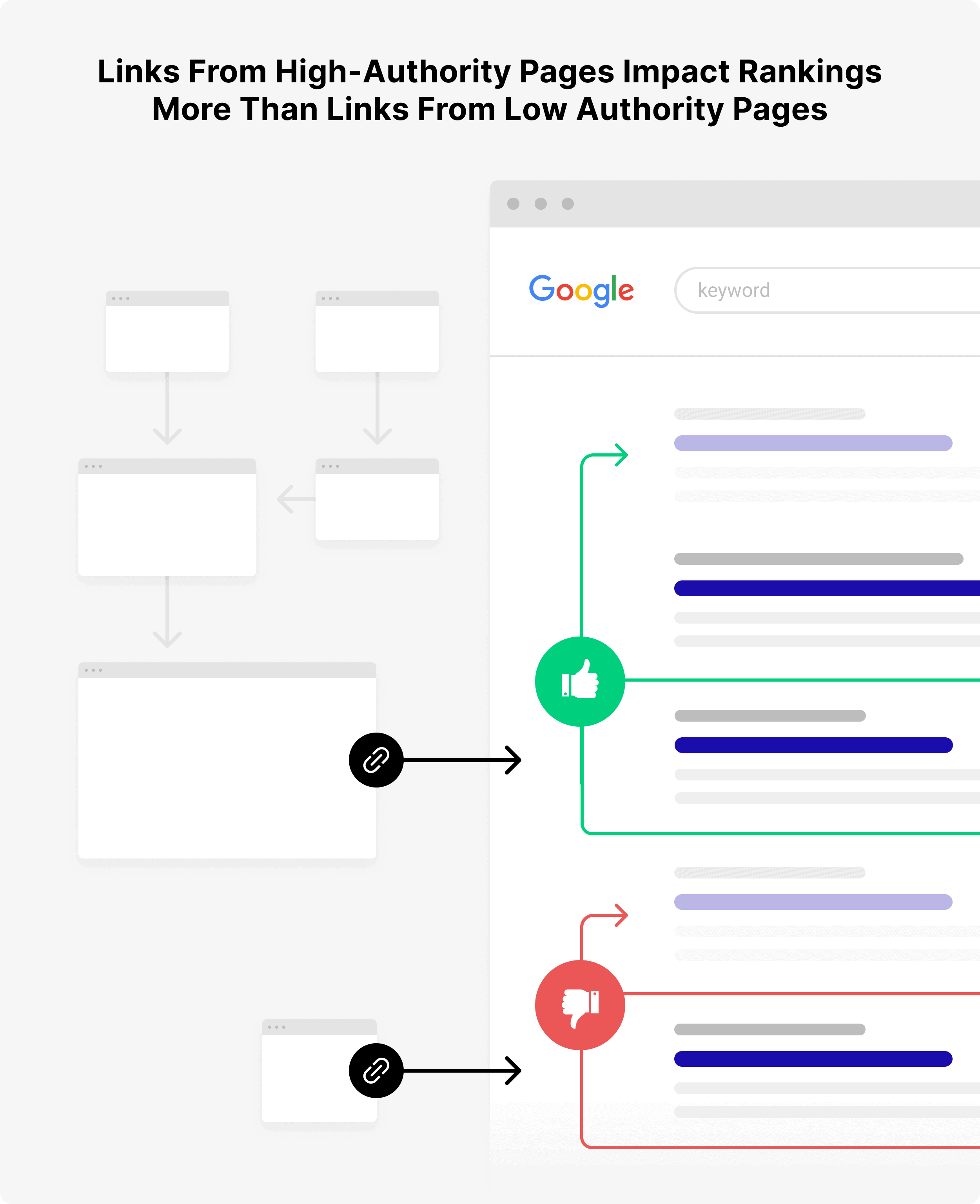 There are two main ways of measuring authority: Domain Authority and Page Authority.
Domain Authority is the site's authority as a whole. So even if a specific page doesn't have a ton of links pointing to it, the Domain Authority means that the page still has some authority to throw around.
Page Authority is the authority of a specific webpage.
If you want to dive deeper into link authority metrics, I recommend this video from Moz.
Obviously, you want links from authority pages on high-authority websites. The only rub is that these links are EXTREMELY hard to get.
Focus On Links From Relevant Websites
As you start to build links to your website, keep one cardinal rule in mind:
"Get links from relevant websites".
That's because links from sites related to yours pass more SEO value than links from sites in other industries.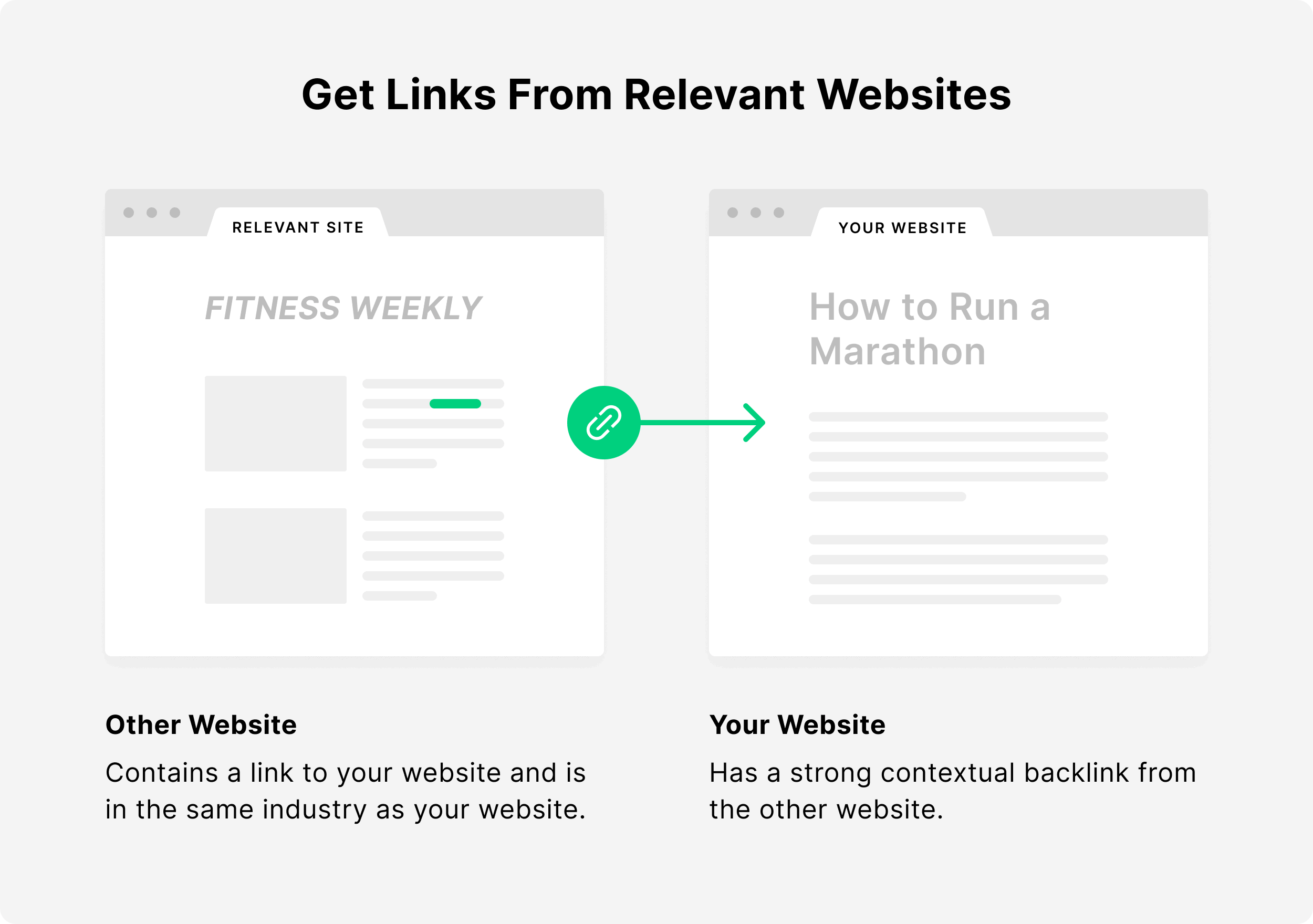 Plus, links from relevant sites show Google that your links are legit. After all, it looks REALLY unnatural if most of the links pointing to your baking site come from video game blogs.
(Note: It's perfectly OK to get a few links from unrelated websites. But if these links make up the bulk of your link profile, you have a problem.)
For example, here's a link to my website from Moz:

Moz covers SEO. My site is also about SEO. To Google, this is a link from a super-relevant website.
That said:
"Relevant" doesn't necessarily mean that the site has to be on your exact topic.
For example, some time ago I got linked to from this website about web design.

Even though "web design" isn't exactly the same thing as "SEO", it's still related. So that link still counts as a relevant backlink.
HOW do you get other people to link to your website?
Before we dive into techniques, I need to cover black hat and white hat SEO.
White Hat vs. Black Hat SEO Techniques
One of the first things you'll notice
In fact, when I first got started in SEO way back in 2009, black hat SEO was SEO. Shady link building tactics were all the rage because they worked.
Today? These sorts of shady link-building tactics don't work nearly as well as they used to. Plus, they get your site slapped from Google's search results entirely.

That's why I don't recommend black hat SEO. It's not worth the risk.
How do you know if a specific link-building strategy is black or white hat?
Review Google's "link schemes" list. This is a regularly-updated list of things that Google considers shady.
Did you pay for the link? No matter how you slice it, directly paying someone for a link is always against Google's guidelines.
Was the link "earned"? In other words, did someone link to your site because they thought it was worth linking to? If so, you're good.
To be clear:
Black hat SEO isn't just about link building. There are lots of other black hat approaches that have nothing to do with links (like doorway pages).
But in most cases, when people say "black hat SEO", they're referring to black hat link building.
With that, let's cover a few white hat link-building strategies that I use and recommend.
The Skyscraper Technique
If you're new to SEO and content marketing, I recommend The Skyscraper Technique because it takes a lot of the guesswork out of creating content that bloggers and journalists will be likely to link to.
That's not to say this process is easy. Far from it. In fact, this approach takes a ton of hard work.
But the reason I recommend starting here is the fact that Skyscraper content is relatively straightforward to create and promote.
In fact, a while ago, I got 766 links to ONE Skyscraper post: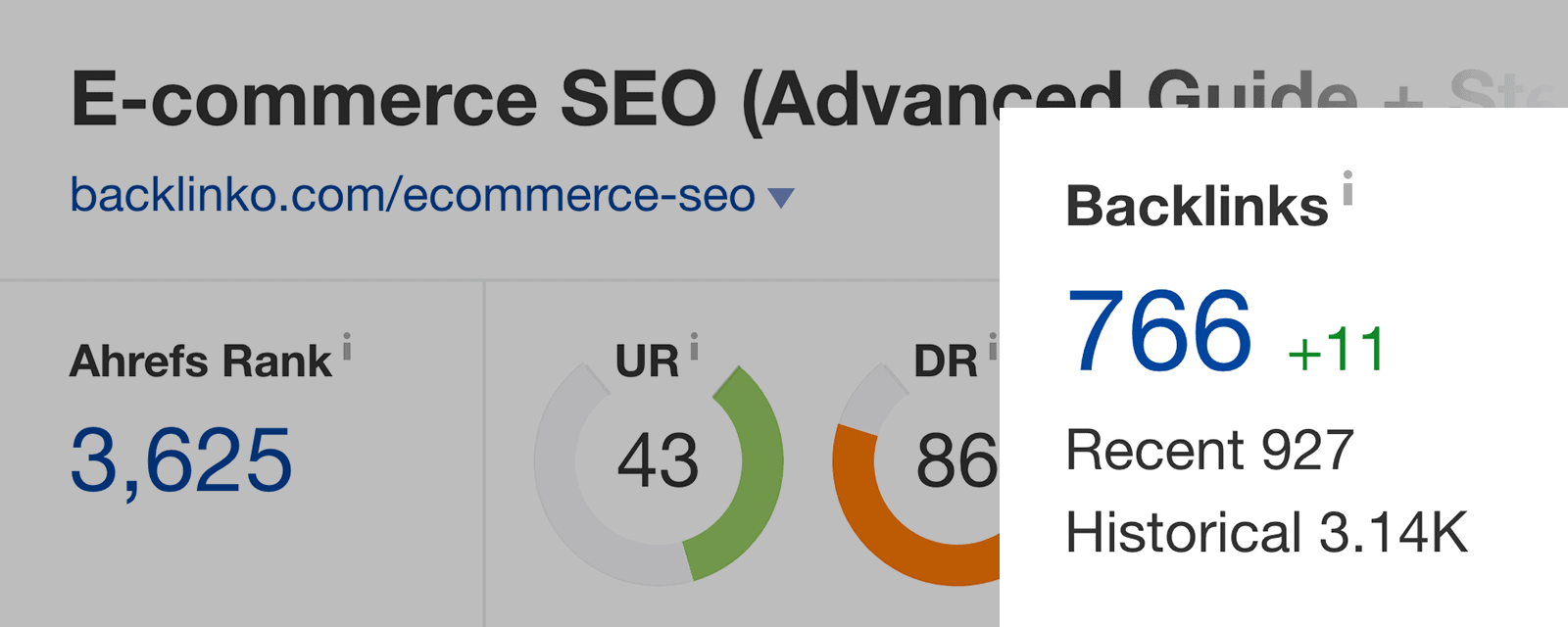 If you want to try it, here's a case study that will walk you through the steps:
Guest Posting
Guest posting as a link building strategy is extremely controversial.
That's because guest blogging can easily go from a legitimate way to get traffic and exposure to a black hat approach.
But when done right, guest posting is an awesome way to get some early links and exposure for your website.
With that, here are a few tips to keep in mind as you start guest posting:
Only guest post on related websites. Publishing lots of guest posts on unrelated sites is a huge red flag.
Avoid keyword-rich anchor text in your link. Instead, use a link with your brand name as the anchor tex (like: Backlinko).
Don't scale. Backlinks from guest posts should make up around 5% of your link profile. Anything more than that can get you into hot water with Google.
If you want to learn how to guest post on authority sites in your industry, check out this guide.
Linkable Assets
"Linkable Asset" is a catch-all term for anything that people will happily link to.
And this goes WAY beyond "great content".
That's because there's so much "great content" out there already. And publishing yet another "10 Tips for Weight Loss" post isn't going to push anyone to link to you.
Instead, I recommend creating content that's specifically designed to get links.
Here are a few examples of Linkable Assets you can create:
Industry study
Myth-busting article
Visual guide or resource
Free tool
Curated list of tips, examples or resources
For example, a while back I published SEO Tools: The Complete List.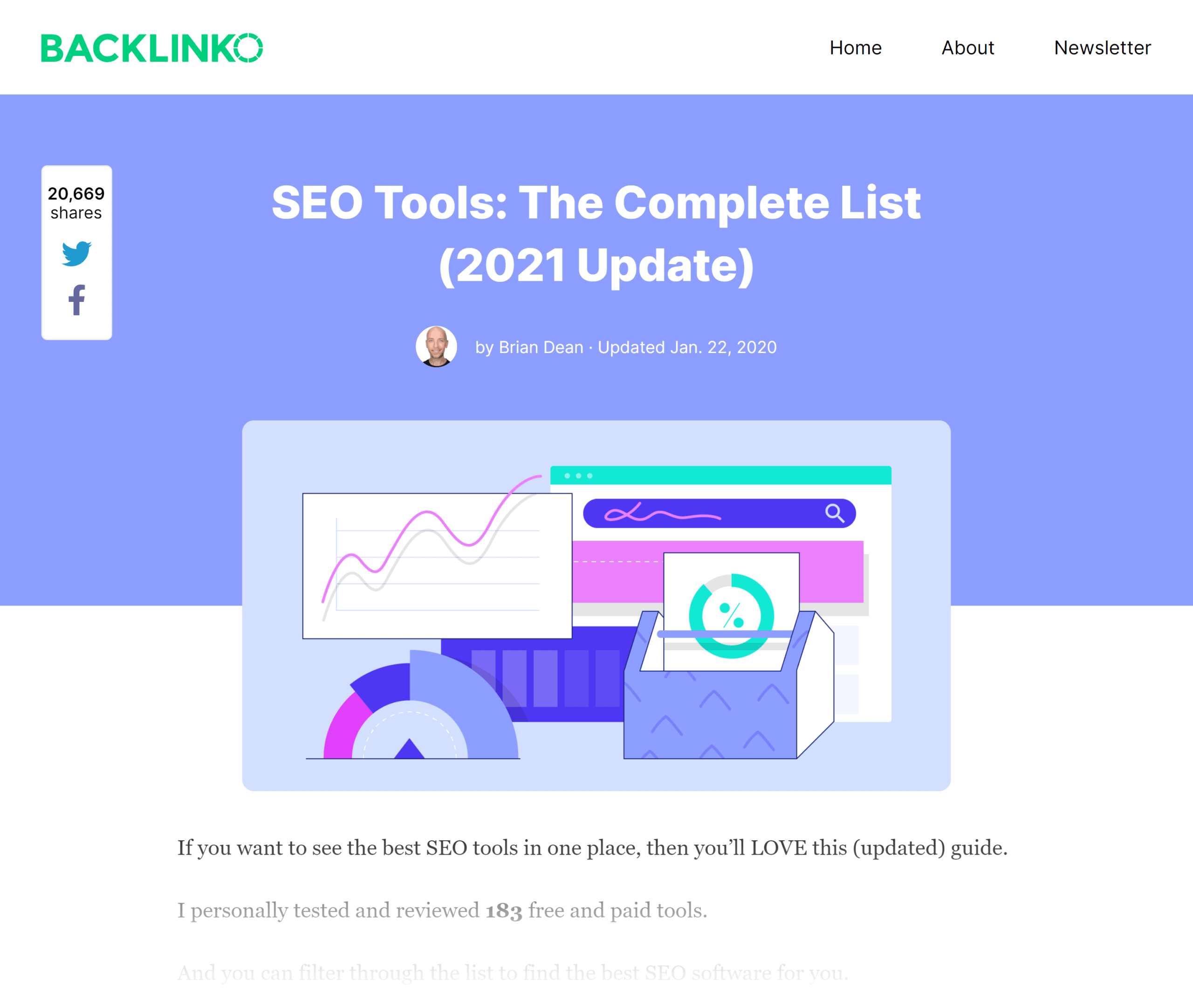 I knew this would be a helpful resource for my readers. But I also realized that this post would be a Linkable Asset that bloggers in the SEO world would want to share with their audience.
And I was right. That page has been linked to 10.2k times to date.

(Not to mention 19k times shares on social media.)
To be clear:
Your Linkable Asset doesn't necessarily have to be some mega list or guide.
In fact, this relatively simple infographic I made a few years ago now has 8.8k total backlinks.

Why did it do so well? Unlike most other guides to optimizing content, my post was highly visual.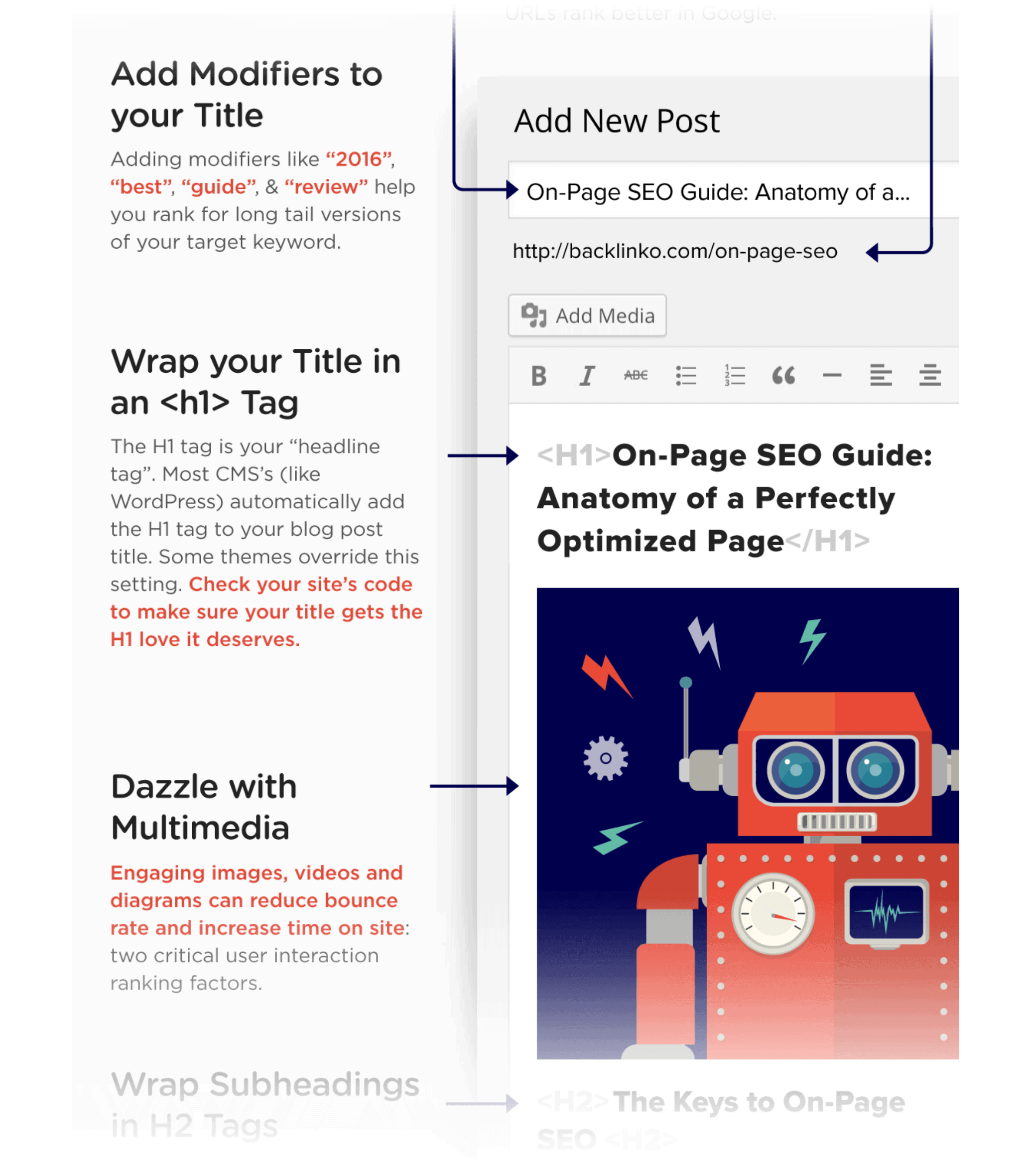 Which made my guide a highly valuable resource that people were more than happy to link to.